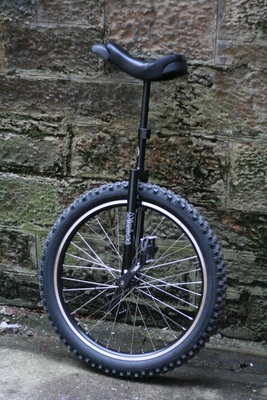 Woo, new unicycle arrived today! I half-cycled and half-pushed it home from work, which gave me a chance to get used to all the differences and experience a few new varieties of UPD.
The tyre is pretty brutal – 3″ wide and deep tread. The larger wheel/tyre combo means the rotational inertia is noticably bigger, although it doesn't present any difficulties in riding. Getting on requires a bit of adjustment. At first, I'd always tip over to the right (not sure why, maybe longer cranks?) but I've now corrected for that.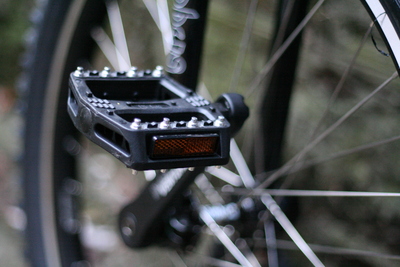 Once I got home, I dropped the tyre pressure from 30 psi down to "pretty squishy" and tried hopping around. The bigger wheel feels much more stable – less likely to roll out from under you. I can do 180 hop/jumps fine – I think the increased spring of the big tyre more than compensates for the increased mass you're spinning round.